Back to Event List
Sun 08.14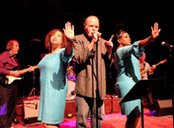 Free Outdoor Show
The Soul Crackers
Genre:
Doors: 5:00 PM
Showtime: 6:00 PM
Tickets: This event has already occurred. Tickets are unavailable.

Take some of the greatest party music ever made, make sure it's sung & played by a band that has made a career out of belting out those sweet soul sounds - and you've got yourself a REAL good time; meet the SOUL CRACKERS!


This is an all ages outdoor show. Capacity is very limited. Entry is first come, first served, so we strongly suggest showing up early.