Back to Event List
Fri 01.17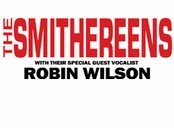 THE SMITHEREENS
with their special guest vocalist ROBIN WILSON
Genre:
Doors: 7:00 PM
Showtime: 9:00 PM
Tickets: This event has already occurred. Tickets are unavailable.

There are no more dining reservations for this show. A limited number of dining tables will be available on a first come, first serve basis starting at door time.

The Smithereens were an anomaly in the American college rock scene of the late '80s. Lead singer/songwriter/guitarist Pat DiNizio stood out not only with his strange beatnik goatee, but also because his catchy hooks were haunting, not punchy, and because his lyrics were morose. As time wore on, the group became more straightforward, turning into an excellent bar band, one that attacked pop songs with the weight of AC/DC.
The Smithereens have brought on renowned vocalist of the Gin Blossoms, Robin Wilson. Robin and the band will take fans through the unforgettable sound and energy of THE SMITHEREENS.
You must be 18 or over to enter unless accompanied by your parent. Valid ID required.
Save some money! There's only a $1 fee when you buy your ticket at the box office.