Back to Event List
Fri 11.05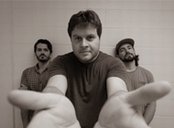 The Cassaday Concoction
w/ The 19th Street Band
Genre:
Doors: 7:00 PM
Showtime: 8:00 PM
Tickets: $12

All of our indoor shows require a proof of vaccination (original card or picture is sufficient), or a negative COVID 19 test that is no more than 72 hours old for entry. At home tests will not be accepted. Please call the box office at 703-237-0300 with any questions.
The 19th Street Band will play from 8-9 pm and the Cassaday Concoction will start around 9:15.

The Cassaday Concoction

Formed during the summer of 2017 by three friends who were in between bands, The Cassaday Concoction has been taking Washington, DC and the east coast by storm with their exciting three-piece blend of rock, funk, and blues.


The band has undergone a few lineup changes since 2017, and now consists of Washington, DC based singer-songwriter Chris Cassaday on vocals and guitar, Brian Gerrard on bass and Adam Bush on drums. Each member's eclectic mix of musical backgrounds gives the band's sound a unique and powerful edge, luring the audience in with groovy rhythms, hard-punching rock and roll, and the occasional crowd-favorite cover song.


The band has graced the stage at the best venues Washington, DC and the surrounding area have to offer, and have proven quickly that they are a must see live act. The band released a live EP "The Cassaday Concoction (Live At Groove Studios)" on January 12th, 2018, and on March 15th, 2019, they released a 3-song-EP entitled "Hear, Listen". DC music rocks says, "this is one show that you will not want to miss!" They are coming to a stage near you.


The 19th Street Band


Caolaidhe came to America from Holywood, Northern Ireland in 2005 to pursue a career in music. While establishing an earlier band, he found himself in need of a fiddle player. As fate would have it, Meghan (a classical violinist) was working at an Irish pub in DC as a server while teaching music at a nearby public school. Through Caolaidhe's acquaintances, he was lucky enough to meet Meghan and quickly auditioned her for the band. What Caolaidhe didn't know was that he was auditioning his future wife. Fast-forward a few months down the road, and Meghan and Caolaidhe found themselves living on '19th Street' in Arlington, VA, writing songs and creating the sound that would become the backbone of The 19th Street Band.