Back to Event List
Sat 01.11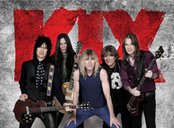 KIX & THE ROADDUCKS
Genre:
Doors: 6:00 PM
Showtime: 7:45 PM
Tickets: This event has already occurred. Tickets are unavailable.

There are no more dining reservations for this show. A limited number of dining tables will be available on a first come, first serve basis starting at door time.

JOIN US AT 7:45 FOR JAMMBOXX!

KIX:
KIX was founded in 1978 in Hagerstown, Maryland as The Shooze, then changed its name to The Generators before eventually settling on KIX. They were considered one of Maryland's top cover bands prior to their signing with Atlantic Records in 1981. Though often lumped in with bands that many consider to be glam metal or hair metal, the bands pop-metal stylings on the first KIX record drew inspiration from bubblegum pop and new wave as well as hard rock.

In 1981, they debuted with a self-titled album "KIX," featuring "Atomic Bombs", "Heartache", "Contrary Mary","The Itch," "The Kid." "Yeah, Yeah, Yeah" instantly became a concert favorite. "KIX Are for Kids" creatively merged the name of the band with two popular cereals of the 1960s and 1970s, KIX (that featured an atomic bomb commercial) and the Trix Rabbit (i.e., "Silly rabbit, Trix are for kids!"). "Yeah, Yeah, Yeah" became the band's most popular concert song, always with a unique ad-lib performance by Whiteman. With this album, the tongue-in-cheek rock & roll style of KIX was established.

The Roadducks:
The Roadducks were formed in January of 1976 by Jay Nedry, Bob Gaynor, and Bill 'The Senator' Schmidle in the band's hometown of West Springfield, Virginia. These 3 core individuals along with Bill Culver (Dec. 1976) have created a lasting legacy powered by 5,507 shows (as of 8/19) from the band's hometown of West Springfield, Virginia. Along with stops in New Haven, CT (1977-79) and Virginia Beach (79-81) The Roadducks helped spawn a cultural phenomenon as defined by the times (post-Vietnam, Women's and Civil Rights movements) that continues through to today.