Back to Event List
Sat 03.14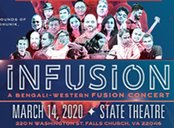 INFUSION CONCERT
An Exclusive Bengali Fusion Event
Genre: South Asian Western Fusion
Doors: 7:00 PM
Showtime: 8:00 PM
Tickets: $10

INFUSION is a collective of diverse musicians working together to meld Southeast Asian and Western musical traditions. Infusion re-imagines famous Bangladeshi pieces through a modernist lens, marshaling traditional instrumentation and cutting-edge technology to create a sound that is simultaneously unique and wonderfully familiar.
TEAM: Infusion comprises a huge array of musicians: 8 singers and 5 guitarists share the stage with synthesizers, drums, tabla, bass, sitar, and flute. While the musicians hail from different regions and are steeped in disparate musical traditions, together they generate a distinct and coherent sound. The band has started doing small shows and is extremely excited to be performing at the State Theatre in March 2020—this will be an unforgettable showcase featuring an engaging blend of sounds, cultures, languages, and creative lighting entertainment.
SET LIST: Infusion primarily plays recognizable Bangladeshi songs with a twist, but the twist goes both ways: Infusion also re-interprets Western artists like Pink Floyd and Joe Satriani with an Indian/Bengali edge while also touching a upon few famous Indian songs. One thing's for sure: whenever you're watching and listening to Infusion, you're experiencing something altogether new on the world stage.
The band is extremely excited for the opportunity to play the State Theater, and hopes music lovers from all walks of life will come and share this experience.
Please free to follow the band and get all the updates (including teaser videos!). Please also RSVP on the event page as well.
DON'T MISS THIS AWESOME SHOW…..WE HOPE TO SEE YOU ALL THERE!
You must be 18 or over to enter unless accompanied by your parent. Valid ID required.
Save some money! There's only a $1 fee when you buy your ticket in person at the box office.