Back to Event List
Sun 10.24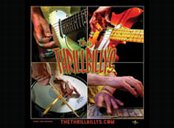 The Thrillbillys
Free Outdoor Show!
Genre:
Doors: 5:00 PM
Showtime: 6:00 PM
Tickets: This event has already occurred. Tickets are unavailable.

Johnny Castle (Bass, Vocals): Johnny is The Thrillbilly band leader and has played with some of the best bands in the DC area over the last 40 years. Some of those bands: Bill Kirchen and Too Much Fun, The Nighthawks, Switchblade featuring Eddie Angel (Los Straightjackets), Steuart Smith (Eagles, Rodney Crowell) and Ratso (Kinky Friedman), Tex Rubinowitz and the Bad Boys, Crank DC, and too many others to even think about listing. Johnny's well versed in American Roots music, and has played Blues, Bluegrass, Honky Tonk, Swing, Texas Swing, Rockabilly, R&B, Rock and Roll and Funk.

Johnny was a recipient, along with his fellow Nighthawks, of the 2011 Blues Foundation award for Acoustic CD Of The Year. Their Documentary, "The Nighthawks, That Band On The Blue Highway" won Living Blues Documentary of the Year in 2018. His groups, Too Much Fun and the Nighthawks achieved Wammie Emeritus status having won numerous Wammies in their respective genre's. David Kitchen is a prolific singer-songwriter and guitarist from the Washington, D.C. area who has been very involved in the mid-Atlantic music scene for the last 20 years. His contributions have been recognized by the Washington Area Music Association whose members voted him Songwriter Of The Year for 2006 as well as the award for the Best Pop Rock Vocalist for 2009 and 2010. As a bandleader for his own bands (The David Kitchen Band, The Cutaways), he has performed at regional venues ranging from The Kennedy Center Millennium Stage and The State Theater to clubs such as IOTA Club and Café and Jammin' Java in Virginia. As a sideman he has worked with an astonishingly wide array of artists playing many genres of music including swing, rockabilly and zydeco. He has no intention of slowing down having recently signed on with Creative and Dreams Music Network, a Nashville publishing company.

Andy is another veteran sideman of the DC scene. He has played with Ruthie and The Wranglers, Little Pink, J.P. McDermott & Western Bop and Zydeco Crayz among others. Andy has been nominated for several WAMMIEs as well.

Jack is a long standing veteran of the D.C./ Baltimore music scene. He has worked with the Hula Monsters, as well as being a founding member of the Rhodes Tavern Troubadors. He is best known for his work drumming and vocalizing with Bill Kirchen and Too Much Fun (alongside Thrillbilly bandmate Johnny Castle) for nearly 2 decades. Johnny & Jack along with Bill were nominated for a Grammy Award for their instrumental "Poultry In Motion". The two also were the rhythm section for the "Super Picker" group the Twangbangers (Bill Kirchen, Red Volkaert, Joe Goldmark, Dallas Wayne) on both their CD and their national tour.

This is an all ages outdoor show. Capacity is very limited. Entry is first come, first served, so we strongly suggest showing up early.