Back to Event List
Sat 12.18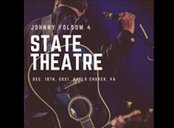 Johnny Folsom 4
A Tribute To Johnny Cash!
Genre:
Doors: 7:00 PM
Showtime: 9:00 PM
Tickets: This event has already occurred. Tickets are unavailable.

All of our indoor shows require a proof of vaccination (original card or picture is sufficient), or a negative COVID 19 test that is no more than 72 hours old for entry. At home tests will not be accepted. Please call the box office at 703-237-0300 with any questions.

From A Boy Named Sue to Ring of Fire, the Johnny Folsom 4 pays tribute to the legendary Man in Black.

Lead singer David Burney brings a lilting southern baritone to Cash's classic songs which hits the mark well enough that you will wonder if Johnny, himself, is in the building. David Gresham more than meets the challenge of filling in for Luther and Carl Perkins on those classic guitar licks. And Tom Mills (bass) and Randy Benefield (drums) provide the hallmark, train-like driving rhythm the whole world loves. And when the boys are living right, the remarkable Miss Eleanor Jones joins in on those classic Johnny and June duets – it's hotter than a pepper sprout!

True to the Mr Cash's poetic spirit, JF4 promises an honest and entertaining performance for fans of all ages.

Based in Raleigh, NC, the band has played venues and festivals from New York City to Nashville including headlining the NC State Fair in Raleigh, the Riverbend Music Festival in Chattanooga, and the SC Strawberry Festival in Fort Mill. Among the many great venues the band has played includes the Haw River Ballroom, Lakeside Lounge, Pour House (Raleigh), Lincoln Theater (Raleigh), Deep South the Bar, the Cary Theater and the 5 Spot.

When it comes to honoring Johnny Cash, JF4 walks the line.



You must be 18 or over to enter unless accompanied by your parent. Valid ID required.
Save some money! There's only a $1 fee when you buy your ticket in person at the box office.