Back to Event List
Sat 12.31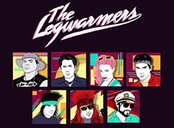 THE LEGWARMERS NYE DANCE PARTY
Genre: Tribute
Doors: 8:00 pm
Showtime: 9:30 pm
Tickets: $50

Come party with us as we bid 2022 a gleeful adieu! We are excited to bring the most popular New
Years party back!
Washington DC's Premier 80's Tribute Band.

Judging from the huge response we get every time they're here, a lot of you find the same guilty pleasure we do in reliving the 80s. The big hair. The lacy ankle socks. And the music! You thought it was a forgettable decade, but the Legwarmers (great accessory, great band name) will make you remember each and every hit. Come out and Safety Dance like it's 1985.
We will be providing an open buffet starting at door time until supplies last. The kitchen will not be open for ordering.
21 & UP TO ENTER. This show is all GENERAL ADMISSION.
*ADMIT ONE PASSES ARE NOT ACCEPTED AT THIS SHOW
Save some money! There's only a $1 fee when you buy your ticket in person at the box office.