Back to Event List
Sat 09.25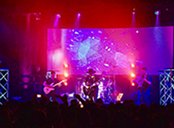 SONAR ROCK
Misil Stereo (Tribute to Soda Stereo), Espiritu del Rock & Tres Minutos!
Genre:
Doors: 7:00 PM
Showtime: 8:00 PM
Tickets: $20

MISIL STEREO pays tribute to arguably the most influential Spanish Rock band from the 80/90's era Argentinian...Soda Stereo!. Featuring strings, drums, guitars and keys capturing every detail of their GREATEST HITS!!!
ESPIRITU DEL ROCK
revives the hits of Spain's Heroes del Silencio in an unforgettable live performance that will take you back.
Don't miss DC'S own Tres Minutos kicking off the show at 8PM!
You must be 18 or over to enter unless accompanied by your parent. Valid ID required.
Save some money! There's only a $1 fee when you buy your ticket in person at the box office.