Back to Event List
Wed 03.10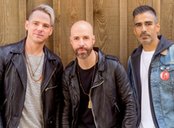 CANCELED DAUGHTRY ACOUSTIC TRIO
Genre: Acoustic / Rock
Doors: 6:30 PM
Showtime: 8:30 PM
Tickets: This event has already occurred. Tickets are unavailable.

In the spirit of safety, Daughtry has canceled his tour including the show scheduled for 3/10/21 at the State Theatre. We hope to have a new date announced in the future.

Due to the high demand for refunds for continually canceled events, refunds may take up to 45 days to be processed. We appreciate your patience during this time.

If you would like to help the State during this time, please consider donating the value of your tickets in lieu of a refund (to do this call our box office at 703-237-0300 or email them at boxoffice@thestatetheatre.com). Your support and understanding is greatly appreciated.
"It takes a lot of time to accept who you are," says Chris Daughtry. "You shave off the persona that you thought people expected, stop worrying about what anyone is going to think. You start to be comfortable with who you are onstage and off, and that all blends together. I think I finally know who I am as a person."

As the frontman for the band bearing his name, Daughtry has become one of the most visible and consistent rock & roll torchbearers of the 21st Century. Throughout his career he has released five albums and one Greatest Hits, all of which reached the Billboard Top Ten and have combined sales over 9 million copies in the U.S.

Daughtry's self-titled debut was the best-selling album of 2007, which contained four #1 hit singles including the Grammy-nominated smash "It's Not Over." Leave This Town also reached Number One in 2009, while 2011's Break the Spell was certified gold. His group's most recent record, 2013's Baptized, featured the platinum-selling "Waiting for Superman," which the singer points to as a turning point in his songwriting.

"It was a nice hybrid of where we had been and where we're going, and it opened my eyes a bit," says Daughtry. "Everything was so serious and doom and gloom, and 'You broke my heart,' but we never saw ourselves as those people outside the music -- onstage we were always joking around. That helped me wrap my head around the fact that we can be light-hearted and still be us. And that really changed the way I approach the songs in general. more



Sky Suite is booked.
Admit one cards are NOT valid for this show.