Back to Event List
Thu 05.19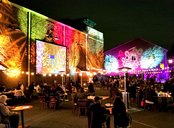 Mother's Little Helper:Tribute to The Rolling Stones
FREE OUTDOOR SHOW!
Genre:
Doors: 6:30 PM
Showtime: 7:30 PM
Tickets: Tickets are not currently available for sale.

We are thrilled to announce the return of The State Theatre's outdoor concert series!!
Our all ages pet-friendly outdoor concert series is back! Come join us kicking off this year's outdoor season with local favorites Mother's Little Helper playing your favorite Rolling Stones tunes!
Mother's Little Helper plays music made famous by The Rolling Stones! The band members consist of veteran players from local bands Cactus Liquors, Allman Others Band and Jameson Green. The band loves to play upbeat rockers that will have the audience bouncing along to the infectious music of the Stones.
This is an outdoor, free event.