Back to Event List
Wed 02.10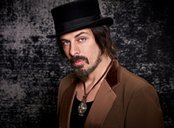 CANCELLED RICHIE KOTZEN
Genre:
Doors: 6:00 PM
Showtime: 8:00 PM
Tickets: This event has already occurred. Tickets are unavailable.

THIS SHOW HAS BEEN CANCELLED. ALL PURCHASES PAID BY CREDIT CARD WILL BE AUTOMATICALLY REFUNDED.
Guitar virtuoso Richie Kotzen burst onto the heavy metal scene as a teenager with a lightning-fast guitar technique. Now, 50 FOR 50—his 22nd solo album--is due out Monday, February 3 via his own custom label, Headroom- Inc. The self-produced three-disc collection is just what the title implies: a collection of 50 previously unreleased compositions produced, performed and written by KOTZEN in honor of his birthday. It's the follow-up to his critically acclaimed SALTING EARTH album, which was released April 14 2017 via Headroom-Inc.
Although KOTZEN has been hailed as a guitar virtuoso since the release of his first album, it is his emotional lead vocal delivery and diverse songwriting style that separates him from his peers thanks in large part to artist that influenced him in the Philly Soul R&B to Jazz, Rock, Funk, and Fusion Guitar genres. 50 FOR 50 captures the full artistic scope of what makes RICHIE KOTZEN such a unique artist.
You must be 18 or over to enter unless accompanied by your parent. Valid ID required.
Save some money! There's only a $1 fee when you buy your ticket in person at the box office.