Back to Event List
Sun 08.16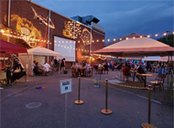 Free Outdoor Show!
Comedy Night
Genre:
Doors: 12:00 PM
Showtime: 7:30 PM
Tickets: Tickets are not currently available for sale.

We are excited to move our comedy night to our beautiful new outdoor stage!

Featuring: Host Jamel Johnson, Jheisson Nuñez, Romane Walters, Michael Summers, Kevin Tit,
Denise Taylor, Jose Sanchez, Joey Duffield, Shelley Kim And special guests

Capacity is limited, we recommend showing up early. This show may contain adult humor.