Back to Event List
Fri 07.16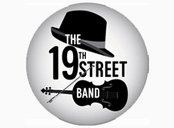 Free Indoor Show!
The 19th Street Band
Genre:
Doors: 5:00
Showtime: 7:00
Tickets: This event has already occurred. Tickets are unavailable.

Caolaidhe came to America from Holywood, Northern Ireland in 2005 to pursue a career in music. While establishing an earlier band, he found himself in need of a fiddle player. As fate would have it, Meghan (a classical violinist) was working at an Irish pub in DC as a server while teaching music at a nearby public school. Through Caolaidhe's acquaintances, he was lucky enough to meet Meghan and quickly auditioned her for the band. What Caolaidhe didn't know was that he was auditioning his future wife. Fast-forward a few months down the road, and Meghan and Caolaidhe found themselves living on '19th Street' in Arlington, VA, writing songs and creating the sound that would become the backbone of The 19th Street Band.

This is an all ages, free, indoor show. Capacity is very limited. Entry is first come, first served, so we strongly suggest showing up early.