Back to Event List
Sun 05.02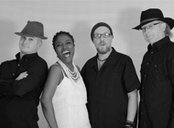 Free Outdoor Show!
Robbin Kapsalis and Vintage #18
Genre:
Doors: 5:00 PM
Showtime: 6:00 PM
Tickets: Free

Hard-driving blues rhythms and soul grooves fuel the blistering performance of D.C.-based soul blues band Vintage#18. After attending a performance, John Porter, WCVE declares, "Vintage#18 is a band you have to see live in order to appreciate their level of performance." According to The Alternate Root, "Robbin Kapsalis delivers vocals that slink through a smokey haze of Soul".

Performing together since 2013, the band sharpened their sound and performance chops in clubs throughout Washington, D.C., Maryland and Virginia. In 2016, they represented the Central Virginia Blues Society at the International Blues Challenge in Memphis, Tennessee and afterward immediately began working on their debut album Grit.


This is an all ages outdoor show. Capacity is very limited. Entry is first come, first served, so we strongly suggest showing up early.