Back to Event List
Thu 10.29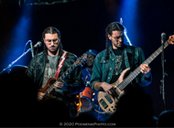 Free Outdoor Show!
Canceled Twin Brothers Band
Genre:
Doors: 4:00 PM
Showtime: 7:00 PM
Tickets: This event has already occurred. Tickets are unavailable.

Tonight's show has been canceled due to the weather.

Since 2017 The TWIN BROTHERS BAND has been bringing their funky blues rock jams to the Richmond, VA music scene. This quartet is led by Greek identical twin brothers Paul (guitar,vocals) and Dimitri Yeonas (bass,vocals). Fellow Richmond natives Marshall Agee (keyboards,vocals) and Wynton Davis (drums, vocals) complete the band.

Together this quartet brings a diverse and unique musical experience inspired by The Grateful Dead, Derek Trucks, Marcus Miller, The Allman Brothers, Phish and many more.

The Twins have shared a stage with acts such as Roosevelt Collier, Robert Randolph,Kendall St. Company, and Desmond Jones just to name a few. This four piece band plays with passion and high energy wanting nothing more than to have a good time.
Photo credit: podmenikphoto.com
This is an all ages outdoor show. Capacity is very limited. Entry is first come, first served, so we strongly suggest showing up early.



The ongoing impacts of COVID 19 are being felt now more than ever. As we enter another season we are faced with growing challenges and increased costs. Maintaining staffing and operating costs for our outdoor shows, providing PPE, stocking antibacterial cleaning products, as well as day to day expenses continue to be a struggle. While we provide 100% of our outdoor events for free, please consider a donation that will help us in our efforts to keep live music going in Northern Virginia. Thank you for all your support.
Scan or click the QR code below