Back to Event List
Thu 09.15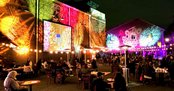 Fast Eddie & The Slowpokes
FREE OUTDOOR SHOW!
Genre:
Doors: 6:30 PM
Showtime: 7:30 PM
Tickets: This event has already occurred. Tickets are unavailable.

Fast Eddie & The Slowpokes are guaranteed to get you up on your feet! The Slowpokes playlist is inspired by classic blues material from Chicago to West Coast Swing, Motown to Muscle Shoals, and all the rock n' roll in between.
Fast Eddie & The Slowpokes have performed from Philly to Memphis, from The Kennedy Center to festivals to roadhouses. They have shared the stage with Mark Hummel, Victor Wainwright (2016 BMA Entertainer of the Year), The Nighthawks, Junior Watson, Big Joe & The Dynaflows, The Andy T Band, Jimmy Thackery, and Phil Pemberton of Roomful of Blues. They won the 2016 and 2012 DC Blues Society Battle of the Bands and represented the DC Blues Society at the 2017 and 2013 The International Blues Challenge in Memphis! In 2017, they were Semi-Finalists at the International Blues Challenge!
This is a FREE Outdoor Show!