Back to Event List
Sat 10.24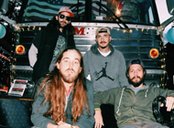 Free Outdoor Show!
Feel Free
Genre:
Doors: 4 PM
Showtime: 7:30 PM
Tickets: This event has already occurred. Tickets are unavailable.

Formed in 2010 in Alexandria, VA on the outskirts of Washington D.C., FeelFree's smooth sound incorporates hard hitting horn lines, tasteful guitar work, and memorable melodies. They independently released their third album "Define the Free" in July of 2018 after premiering their single "Lonely Life" with critically acclaimed Rootfire Cooperative. The album would go on to win Best Reggae Album of 2018 at Washington D.C.'s 31st annual Wammie Awards. FeelFree released their latest single "Make This Dance Last" in December of 2019. Learn more about the band at feelfreemusic.com


This is an all ages outdoor show. Capacity is very limited. Entry is first come, first served, so we strongly suggest showing up early.
The ongoing impacts of COVID 19 are being felt now more than ever. As we enter another season we are faced with growing challenges and increased costs. Maintaining staffing and operating costs for our outdoor shows, providing PPE, stocking antibacterial cleaning products, as well as day to day expenses continue to be a struggle. While we provide 100% of our outdoor events for free, please consider a donation that will help us in our efforts to keep live music going in Northern Virginia. Thank you for all your support.
Scan or click the QR code below