Back to Event List
Wed 10.14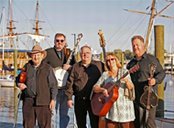 Fre Outdoor Show!
No Part Of Nothin'
Genre:
Doors: 4:00 PM
Showtime: 7:00 PM
Tickets: This event has already occurred. Tickets are unavailable.

No Part of Nothin' plays bluegrass and classic country songs featuring tight harmonies, great stories, original songwriting, and virtuoso leadwork by some of the region's best bluegrass pickers.

The band features Michelle Murray on vocals and guitar, Jeff Karn on mandolin and vocals, Keith Arneson on banjo, Vince Forcier on bass and Alan Oresky on fiddle.

The band recently released a few songs on an EP sampler, "A Few Toe Tappin' Tunes." The EP is available on Bandcamp at: https://michellemurray.bandcamp.com/album/no-part-of-nothin-a-few-toe-tappin-tunes

In addition to leading the band, Michelle hosts a nightly radio show on Bluegrass Country radio, which can be heard 24/7 on HD radio at 88.5FM Channel 2 in the Washington area, streaming worldwide at BluegrassCountry.org and via a free smart phone app (Apple iOS and Android devices.)

This is an all ages outdoor show. Capacity is very limited. Entry is first come, first served, so we strongly suggest showing up early.


The ongoing impacts of COVID 19 are being felt now more than ever. As we enter another season we are faced with growing challenges and increased costs. Maintaining staffing and operating costs for our outdoor shows, providing PPE, stocking antibacterial cleaning products, as well as day to day expenses continue to be a struggle. While we provide 100% of our outdoor events for free, please consider a donation that will help us in our efforts to keep live music going in Northern Virginia. Thank you for all your support.
Scan or click the QR code below