Back to Event List
Fri 03.12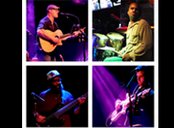 Free Outdoor Show!
The Chris Timbers Band
Genre:
Doors: 4 PM
Showtime: 5 PM
Tickets: This event has already occurred. Tickets are unavailable.

Straight Outta Loudoun County, Chris Timbers is a hometown favorite who has been writing music and performing for most of his life. Locals may remember him from the Virginia-based band Less Traveled. These days, backed by some of the DMV's most talented musicians, the Chris Timbers Band blends rock, blues, and R&B, with a dash of country, and a little funk into a unique sound Chris calls alternative soul. From classic covers to timeless originals, the Chris Timbers Band's energy and superb musicianship has audiences dancing and shouting "one more song" at every show.

Over the years, Chris has shared the stage with many influential musicians such as Tim Reynolds (Dave Matthews Band), Merle Saunders, Tad Kinchla (Blues Traveler), Gary Grainger, John Scofield, and Scott Ambush (Spyro Gyra).

The Chris Timbers Band is Chris Timbers on vocals/guitar; Mike Tony Echols (Paul Nelson Band) on bass, Pete Thomas on guitar, and Paul Dudley (Shakin' Woods and Corey Harris Band) on drums.


This is an all ages outdoor show. Capacity is very limited. Entry is first come, first served, so we strongly suggest showing up early.

The ongoing impacts of COVID 19 are being felt now more than ever. As we enter another season we are faced with growing challenges and increased costs. Maintaining staffing and operating costs for our outdoor shows, providing PPE, stocking antibacterial cleaning products, as well as day to day expenses continue to be a struggle. While we provide 100% of our outdoor events for free, please consider a donation that will help us in our efforts to keep live music going in Northern Virginia. Thank you for all your support.
Scan or click the QR code below