Back to Event List
Fri 03.26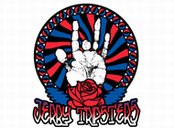 Free Outdoor Show!
The Jerry Tripsters
A Jerry Garcia Band Tribute
Genre:
Doors: 6 PM
Showtime: 7:30 PM
Tickets: Free

The Jerry Tripsters came into being as a cobbled together ensemble formed on the spot to fill an
empty slot at a local Grateful Dead festival. From the first song played together the chemistry was undeniable,
the audience wanted more, and the band was eager to oblige.

Members of the Jerry Tripsters come from some of the most accomplished Grateful Dead and Jerry
Garcia tribute acts in the DC/MD/VA region including Better Off Dead, DC Mystery Cats, On The Bus, Splintered Sunlight,
and Stewbone. Their canvas is the extensive work of Jerry Garcia with a focus on
the Jerry Garcia Band, but they add their own special flavor to the songs that have been the soundtrack
to many of our lives.

As Jason Herman from DC Music Review says "It should be stated that this band is not a note-for-note
tribute to the music of Jerry Garcia. What differentiates this band from others is that the performance
embraces and is true to the original works, yet more readily welcomes the jam exploration by each artist
on stage. The Jerry Tripsters were meant to be playing together."

When you come see a Jerry Tripsters show, we can promise you three things:
Joy: the smiles of the band members and audience are ever present and infectious.
Jam: With the wink of an eye or a sly nod, The Tripsters are not afraid to take songs to unexplored
musical directions.
Jerry: The Tripsters dig deep into the Jerry Garcia catalog while focusing on the all-time favorites that
the audience knows and loves.

Like all good trips, The Jerry Tripsters don't know where the journey will take them but there will surely
be many adventures along the way. We invite you along for the ride.


This is an all ages outdoor show. Capacity is very limited. Entry is first come, first served, so we strongly suggest showing up early.