Back to Event List
Fri 10.15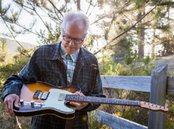 BILL FRISELL TRIO
Featuring Tony Scherr & Kenny Wollesen
Genre:
Doors: 7:00 PM
Showtime: 9:00 PM
Tickets: $35 GA ADV/$38 GA DOS/$45 Gold Circle

All tickets purchased for the original show date will be valid for this rescheduled date.

This is an all seated show.

There are no more dining reservations for this show. A limited number of dining tables will be available on a first come, first serve basis starting at door time.

A Gold Circle ticket gives you the option to pick a seat in the section closest to the stage. Please do not make a table reservation if purchasing Gold Circle tickets. Call our box office at 703-237-300 for more information.


The Bill Frisell Trio features Bill Frisell, Tony Scherr & Kenny Wollesen. Thomas Morgan & Rudy Royston will not be playing this rescheduled date.

Described as being at the very epicenter of modern American Music" (BBC), Bill Frisell's career as a guitarist and composer has spanned more than 35 years and 250 recordings, including 40 of his own. Frisell's recording catalog has been cited by Downbeat as "the best recorded output of the decade," including his recent albums for Savoy -- Sign of Life with the 858 Quartet, Beautiful Dreamers with his trio, and All We Are Saying, a new collection of John Lennon interpretations.

"It's hard to find a more fruitful meditation on American music than in the compositions of guitarist Bill Frisell. Mixing rock and country with jazz and blues, he's found what connects them: improvisation and a sense of play. Unlike other pastichists, who tend to duck passion, Mr. Frisell plays up the pleasure in the music and also takes on another often-avoided subject, tenderness." -- The New York Times



You must be 18 or over to enter unless accompanied by your parent. Valid ID required.
Save some money! There's only a $1 fee when you buy your ticket in person at the box office.